NOVEMBER 21, 2019
The FDA continues its efforts to curb the proliferation of products claiming to contain cannabidiol and marketed as treatments for acute and chronic pain.
The agency's concern has most recently taken the form of a joint warning letter with the Federal Trade Commission to Rooted Apothecary LLC, of Naples, Fla., for illegally selling unapproved products containing CBD online with unsubstantiated claims that the products treat teething pain and earaches in infants, among other conditions or diseases.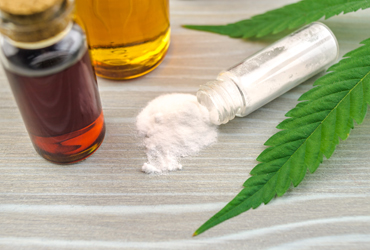 "Cannabis and cannabis-derived compounds are subject to the same laws and requirements as FDA-regulated products that contain any other substance," said Acting FDA Commissioner Ned Sharpless, MD, in a press release. "We've sent numerous warning letters that focus on matters of significant public health concern to CBD companies, and these actions should send a message to the broader market about complying with FDA requirements. As we examine potential regulatory pathways for the lawful marketing of cannabis products, protecting and promoting public health through sound, science-based decision-making remains our top priority."
As described in the warning letter issued to Rooted Apothecary, the company used product webpages, through its online store and social media websites, to make unfounded claims about its CBD products; some of the products were also unlawfully marketed as dietary supplements. Examples of the unsupported claims made by the company include the following: "Increasing evidence suggests that CBD oil is a powerful option for pain, … anxiety … and autism. … It seems like an attractive and safe option for children."ADVERTISEMENT
The FDA and FTC have requested responses from Rooted Apothecary within 15 working days stating how the company will correct the violations.
Unlike drugs approved by the FDA, the manufacturing process of unapproved CBD products has not been subject to FDA review as part of the drug approval process, and there has been no FDA evaluation of whether these products are effective for their intended use, what the proper dosage is, how they could interact with FDA-approved drugs, or whether they have dangerous side effects or other safety concerns, according to the agency.
"We recognize that there is significant public interest in cannabis and cannabis-derived compounds," said FDA Principal Deputy Commissioner Amy Abernethy, MD, PhD in the release. "However, we must work together to fill in the knowledge gaps about the science, safety and quality of many of these products."

Based on a press release from the FDA.
---
Link to original article: https://www.pharmacypracticenews.com/Policy/Article/11-19/FDA-Cracks-Down-on-CBD-Products-Making-Unproven-Pain-Therapy-Claims/56611
Tags: FDA, CBD, Cannabinol